for the best timed (and fastest!) prize delivery goes to.... (nope, it's not me. I am so late sending out a couple of prizes, sorry folks!)
Yesterday morning at about 1 am, Kristin from
An Ordinary Life
sent me an e-mail saying I had won the
Space Buddies
giveaway on her site. I replied with my e-mail address about 7:30 am. Yesterday. Before noon this morning, hubby called to say I had received a package from Disney. Could it really be the
Space Buddies
movie? Already? Oh...and if it was THE package, it was more than a DVD. Could it be stuffed dogs too? (I knew I had won a Space Buddies prize, but I had not yet had the time to see if there were any extras included.) But alas...I had a busy day at work, and I couldn't check it out until I got home. And I made hubby promise to wait until I got home to check!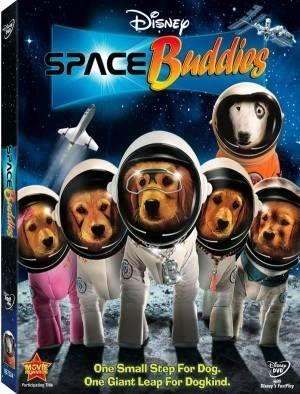 Sure enough, it was the movie and three adorable plush "dogmonauts" like these. (But ours didn't have space helmets.) It was perfect that there were three. One for each of the kids. On our way to dinner. (Pizza Hut for free "Book It" Pizzas!) I told them we had a surprise new movie to watch at home. I told them there would also be a fun surprise for them. When we were a couple of blocks from home, I told them it was a movie they had asked for. Munchie (3 years old) immediately yelled, "Space dogs!" (He had pointed out the sign at Wal-Mart last week.) This announcement was followed by lots and lots of cheers and smiles.
They quickly came home and changed into PJs while Daddy made popcorn. Then I made the presentation. My princess, Crunchy, fell in love with the pink sister "Rosebud". Chewie adored the Russian dog Sputnik. And Munchie LOVED Buddha. Armed with their new toys, we started the movie.
It was a very fun movie. The kids laughed and we all had a blast. We held our breaths when they lost communication, and we cheered when everything worked out. No spoilers here. As Chewie said, "It's a kids' movie. We know everyone is going to be okay!" The kids each went to bed with their Space Buddy and a "space ship" (aka cardboard box) while they watched it again.
Thanks Kristen for a great family night movie!