In an hour or so, my husband and I will be heading to Albuquerque. We'll hang out today and spend tonight there. We are making up for the missed anniversary trip from February. Then, tomorrow morning at 8 am, I'll board a plane for Sacramento to see my Mama!
Want to know a secret? Shhhhh.....Not only am I going to surprise Mom. And my brother from Colorado is surprising Mom (and bringing the handprint quilt his wife put together). And my niece and her 10 month old daughter is flying in from Arizona. My sister and her family are driving in from Santa Rosa. And my brothers will drive up from Modesto. If you've been reading my blog, you know all of that. But here's the secret....My other brother (who lives in Missouri) is arriving 25 minutes after I do!! So, what's the big deal!?!?
It is the first time in 9 years that we've all 7 been together. The last time we were all together was for Daddy's funeral January 1999.
Here is what we looked like then (the ages are current):
(back row: Shawn, 50; Brian, 45; Karl, 49; Stephen, 41
front row: Me, 38; Mom; Carmen, 46; Linda, 39)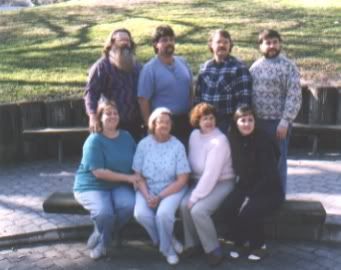 I'll post a new sibling picture when I get home.