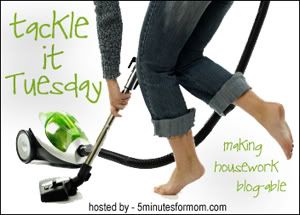 For this week's tackle, once again I started early. (Hey! I work during the week!) Once again I was in the kids' (5 and 3 years old) room. It was in big trouble! This time I cleaned, sorted and threw away 3 1/2 bags of trash! (Which I quickly took out to the alley dumpster before they got home with Grandma and Grandpa!) I also found a box of baby toys (remember my "baby" is 3!) to take to the church nursery. I started at 11:30 am and finished at 3 pm.
After I took the "after" pictures, I made labels with words and simple (very simple!) drawings and put them on the baskets: "Cars", "Trains", "Doll clothes", etc. The amazing thing....3 days later, the room still looks good! I've made them clean up several times a day, but they are enjoying having room to play.
Before I started
During (about 2 hours in! YIKES!)
After
Head over to
5 Minutes for Mom
for more tackles.