I would like to introduce you to an inspirational book of stories. Perseverance is a collection of stories of young adults who faced childhood cancer. Each chapter tells one of 20 stories. Except for a brief introduction and summary, the stories are told in the survivors voice. The stories are powerful! Most chapters contain pictures of the contributor at various times in their lives. I like the format of the book. Even though the chapters are a little long (ranging from about 10-25 pages each) each chapter is broken down into smaller segments. Included in the chapters are letters, notes from parents and blog entries.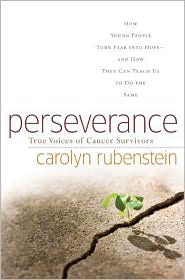 Many of us may think we have it pretty tough these days, but in reality there are those who are accomplishing more with less--even when life is at its most difficult.

Author and nonprofit founder Carolyn Rubenstein, age 24, witnessed this kind of bravery in her work with childhood cancer survivors (www.cccscholarships.org). You should have received her new book, "Perseverance: True Voices of Cancer Survivors" (Forge Books, August 2009), in which she shares the stories of 20 college-age cancer survivors who exemplify success in the face of adversity. It reminds us that, if these young people can face this disease head-on and emerge victorious, the daily obstacles the rest of us encounter suddenly don't seem so insurmountable.

Rubenstein reveals valuable life lessons, such as: how to accentuate the positive, no matter how dire your situation might seem; why it's crucial to educate yourself about what matters to you most; how to channel your sense of humor in helpful ways; strategies to stay in the best physical health possible; and the importance of asking others for help—no matter how much you might hate to do so.

Rubenstein is a featured blogger for The Huffington Post and Psychology Today, and is currently earning her Ph.D. in psychology from Harvard. "Perseverance" will be featured on NBC's "The Today Show" on August 31st to kick off National Childhood Cancer Awareness Month.
ABOUT CAROLYN RUBENSTEIN
Carolyn Rubenstein has spent most of her life working with children with cancer, in one form or another. She first met "kids with cancer" when she was six years old, and visited Camp Sunshine in Maine. Even at that young age, meeting these children affected her deeply—they were her peers, but considered "different". But really, Carolyn realized, they weren't different at all. She made dear friends at that camp, and it started her on a path.

That path has taken many turns. At 14, although still just a kid herself, Carolyn started "Carolyn's Compassionate Children" (CCC) a non-profit organization that began as a pen-pal program for kids with cancer. As the years passed, Carolyn "grew up" with many of her friends with cancer, and saw the financial difficulties they were facing when it came to paying for college. Often, these young people had so much medical debt that paying for school seemed out of the question. To address this need, CCC changed focus from just a pen-pal organization to one that provides scholarships and support to childhood cancer survivors. In addition to providing its own scholarships, today CCC features on its website the "CCCpedia," a database accessing information about more than 3,000 college scholarships for young adult cancer survivors.

A native of Boca Raton, Florida, in 2007 Carolyn graduated Phi Beta Kappa and summa cum laude from Duke University with a BA in psychology. She began her PhD program in clinical psychology at Harvard University in the fall of 2008. She is a regular blogger for The Huffington Post and Psychology Today. Now age 24, in her free time she practices yoga, writes letters, and spends as much time as she can with her family, her friends, and her dog Lila Rose.